SHOW REPORT
2018 Western Canadian National Show,
November 2 - 3, 2018
A Few Notes from Your Show Secretary:
I do apologize for the lateness of this show report. What with coordinating the award and best of breed pictures and subsequent awards, along with holidays and work, it has taken time to complete this show report. Hopefully, this process can be improved for our next show.
Speaking of pictures, many thanks to Larry Brown who took the award and best of breed pictures, along with many show pictures. Larry managed to do this all the while participating in the Fantail meet, thanks Larry.
Many thanks to our judges, John DeCarlo Jr, Gerald Wiebe, Charlie Rowe and Emmitt Wild, along with the specialty meet judges, Ali Younesi, Dennis Manning and Bob Vincent, who all did a stellar job with the show.
Congratulations to all the winners, due the caliber of the entries and the caliber of our judges, it would not have been easy to capture an award, well done.
The exhibitors' reception, hosted by Ken and Elaine Chatwin (Compass Cladding), was well attended again this year. I know everyone looks forward to this annual show event, and we are grateful that Compass Cladding continues to sponsor this event.
Jonkman Equipment once again provided feed for the show, and feed for sale to the exhibitors. We appreciate their support, and hope that our members support their business.
Once again, Givo seemed to have too much fun running the raffle. We appreciate his efforts, and the donations received, as all proceeds go to help offset the cost of the show. And, once again, Ken Chatwin did an amazing job with acquiring donations to the banquet raffle. With the help of his grandson Spencer, they really worked the room selling raffle tickets, thanks to both and everyone who bought tickets, as this really helps with our show finances.
I would like to thank the club directors for their contributions to making this show a success. The planning of the show takes many months and much commitment from the directors, which is appreciated.
Special mention to my wife, Victoria, for volunteering during the show, and for her support and understanding of my time involved with the show preparation over the past year.
Finally, I would like to personally thank our president, Ernie Silveri, whose fundraising efforts for the show and throughout the year for our club, allows us to offer such a low entry fee and a top quality show. If it were not for Ernie's efforts, our entry fees would be $4 per, not the current $2 we offer. So, the next time you see Ernie, let him know how much he is appreciated.
See you at the our next show!
Keith Biggs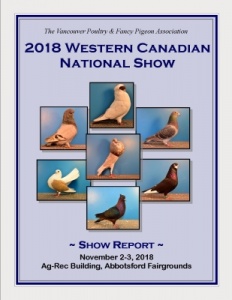 SHOW HIGHLIGHTS

AWARD WINNERS

BEST OF BREED WINNERS

(All photos courtesy of Larry Brown)