SHOW REPORT
2019 Western Canadian National Show,
November 1 - 2, 2019
A Few Notes from Your Show Secretary:
I apologize for how long it took to get this show report out to you. I will defiantly be more prepared and efficient next year. This was my first year as show secretary and had a lot of new things to learn. 2019 Was one of our largest shows in recent history, so thank you!
A big shout out to Larry Brown who took the award and best of breed pictures, along with many show pictures. Larry also built a photo booth specially made to take those beautiful pictures, thank you Larry.
Many thanks to our judges, John DeCarlo Jr. - Gilroy, CA, Ed Pointer, Oklahoma City, OK, Roger Hansen - Ashton, SD, Bob Pilchar- Manitoba, Clint Robertson-Manitoba and Ali Younesi-Surrey B.C. They did an outstanding job!
Congratulations to all the winners.
Thank you to all the Exhibitors who traveled long distances to support the show.
The exhibitors' reception, hosted by Ken and Elaine Chatwin, was well attended again this year. I know everyone looks forward to this annual show event, and we are grateful for Ken and Elaine to sponsor this event.
Jonkman Equipment once again provided feed for the show, and feed for sale to the exhibitors. We appreciate their support and hope that our members support their business. They are located 28355 Fraser Hwy, Abbotsford, BC.
Guido and Ruth of North star doves as always, brings a huge load of pigeon related goodies for us. Always thankful they make the long trip to Abbotsford to support our show.
Givo has too much fun running the show raffle. We appreciate his efforts, and the donations received, as all proceeds go to help offset the cost of the show. Ken Chatwin did an amazing job with acquiring donations to the banquet raffle. With the help of his grandson Spencer, they really worked the room selling raffle tickets, thanks to both and everyone who bought tickets, as this really helps with our show finances.
I would like to thank the club directors for their contributions to making this show a success. The planning of the show takes many months and much commitment from the directors, which is appreciated.
Andy Hansen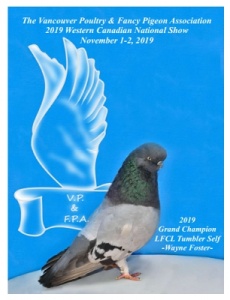 A Few Show Highlights: