SHOW REPORT
2021 Western Canadian National Show,
November 5-6, 2021
A Few Notes from Your Show Secretary:
2021 was once again a very difficult year for everyone around the world and with a year off, we were back. This was a very challenging year for us to put on our show.
With restrictions and mandates changing week to week, and our usual venue for organizing our show commandeered by the Abbotsford health authority for vaccination and Covid testing, we had to get creative and find alternative locations. Fortunately, we were able to secure the Cadet building at the Abbotsford fairgrounds —but it was a much smaller venue.
Yet, we made it work!
Thank you to everyone who pitched in to help make the show a success. From the set up crew, show clerks, tear down crew and clean up helpers, there was a team effort and for that, we thank you! Some of our regular exhibitors were not able to attend but were able to send some entries and we're very grateful for that.
I'd like to share a note of appreciation to:
Our judges Bob Pilchar from Manitoba, Darrell Sebastian from Saskatchewan, and Emmett Wild from Washington state.
Our club photographer, Larry Brown. Getting our birds to cooperate to take a picture is one of the toughest things to do.
The Directors did a wonderful job making sure that we could have the show this year.
Thank you all for your help and dedication to our Pigeon hobby.
I would like to personally thank Ken Chatwin for everything that he does for this club each and every year. This year he went above and beyond helping our club and show succeed.
I'm hopeful 2022 show season will see some normalcy.
Hope to see you all in November
Thank you,
Andy Hansen
Show secretary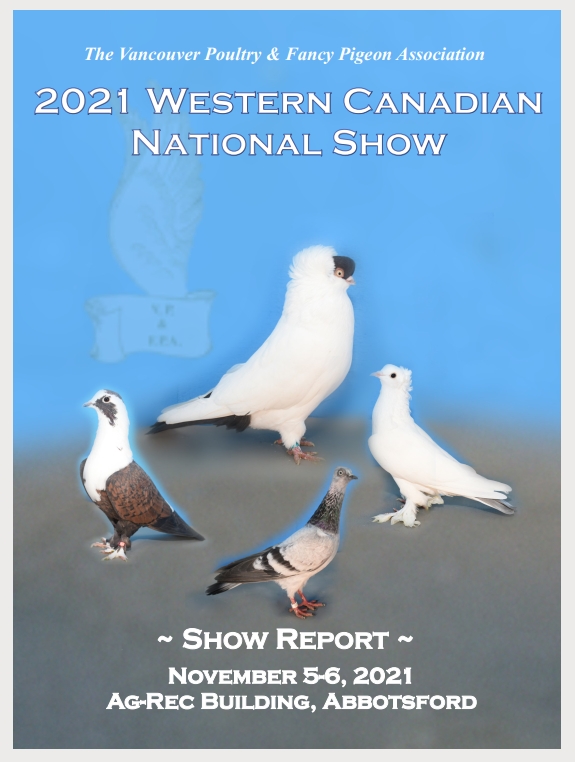 A Few Show Highlights: